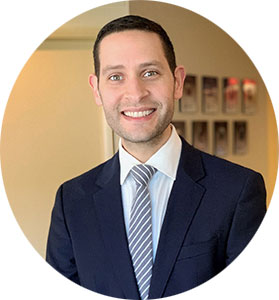 Orthodontics is a unique field—one that combines arts, science, and interaction with the community—all of which make it a perfect fit for me. As an orthodontist, I not only have the ability to move teeth but affect and redirect growth. What is most exciting to me is creating long-lasting smiles that are not only beautiful but also function exceptionally. I can help people of all ages have a smile and bite that they are proud and confident of. Being a part of that transformation is so gratifying, both personally and professionally.
Education and Continuing Education
University of Florida – Bachelor of Science in Microbiology and Cell Science
University of Florida College of Dentistry – Doctor of Dental Medicine
University of Colorado School of Dental Medicine – Orthodontics Specialty Certificate
University of Colorado School of Dental Medicine – Master of Science in Dentistry
Staying up-to-date with continuing education not only helps me strive to be the best orthodontist I can be, but it also benefits my patients by allowing them to receive the best evidence-based treatment available.
I complete continuing education through local and virtual study groups discussing the newest treatment techniques and appliances, as well as attending courses from the world's premier orthodontic researchers and clinicians at the local and national AAO meetings. In addition, I'm actively involved in the Aligner Intensive Fellowship to further my skills with Invisalign® and other clear aligner therapies. I have a great interest in teaching and am involved in case discussions and treatment planning with current orthodontic residents.
Professional Affiliations
Diplomate, American Board of Orthodontics
American Association of Orthodontists
Northeastern Society of Orthodontists
American Dental Association
New York State Dental Association
Third District Dental Society
Outside the Office
I grew up just outside of Ft. Lauderdale, Florida and recently moved to Delmar, New York. My wife Jess is my partner, soul mate, and love of my life. We are college sweethearts and welcomed our fraternal twin sons, Cal and Everett, to the world on our second wedding anniversary. We rescued a cattle dog named Maisie who is the perfect calming addition to our enthusiastic and spirited crew.
I am passionate about running and most mornings you can find me on a trail in all kinds of weather. I also enjoy woodworking and house projects. I love hiking and enjoying a well-deserved craft beer at the end. My boys can count on me for scratch-made pancakes and waffles on the weekends.