Traditional Metal Braces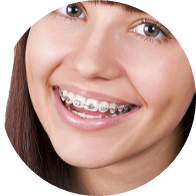 These high tech braces are small, comfortable, and very efficient. Because of their sophisticated design, teeth are free to move faster and more easily.
Fast results mean shorter treatment time
Shorter (and fewer) appointments
Smaller brackets for improved appearance and greater comfort
Braces that are streamlined are easier to keep clean so your teeth and gums will be healthier.
Cermanic or Clarity™ Translucent Braces

Also available are Radiance Translucent. They are most popular with adult patients, due to their cosmetic appeal. The only drawback to translucent brackets are that they are more fragile, and the elastic ties can discolor between orthodontic visits.
Small, translucent brackets for improved appearance and greater comfort.
Invisalign®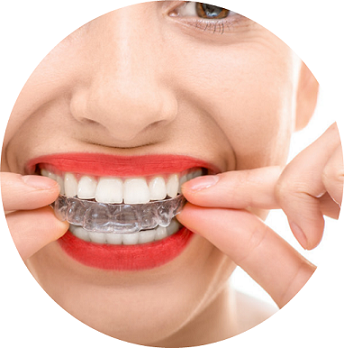 Invisalign straightens your teeth without wires and brackets, using removable appliances called aligners. It's virtually undetectable, which means hardly anyone will know that you're straightening your teeth.
Clearly Different....
The Invisalign system combines advanced 3D computer graphics technology with the 100-year-old science of orthodontics. Invisalign aligners are designed to move your teeth in small steps to the desired final position prescribed by your orthodontist. As you replace each aligner with the next, your teeth will begin to move gradually—week-by-week—until the final alignment prescribed is attained. Then you'll be smiling like you never have before.
The innovative aligners are: clear, removable, super comfortable, and customized just for you! It's virtually invisible, that means you can:
Look great all year long, from school pictures to prom
Perform music and theatre
Give speeches and presentations
Feel confident knowing the only way most people will know you're straightening your teeth is if you show them