Covid-19 Travel Advisory Update as of June 26, 2020
Due to the NYS mandated self-quarantine requirement, we ask that you call and reschedule your appointment if you have traveled to the following areas within the last 14 days:
Alabama
Arkansas
Arizona
Florida
North Carolina
South Carolina
Utah
Texas
If your appointment is of an emergency nature, we can make the needed accommodations when you contact our office. Thank you for your cooperation in keeping our patients, staff and community safe!
Sincerely,
The Doctors and Staff of Albany Braces
Appointment Procedures & Protocol as of June 1, 2020
Welcome back to Albany Braces! We are incredibly excited to be reopening and eager to see our patients and friends in the office once again.
We wanted to let you know what to expect in the office for your next appointment. Many of our procedures have changed to help keep our patients and staff safe. We have implemented new systems based on Centers for Disease Control, American Association of Orthodontists, and American Dental Association recommendations.
BEFORE YOU ARRIVE
Please have the patient brush and floss at home as our in office tooth brushing stations are not available for use at this time.
Everyone in the office must have a facemask on. If you have one bring it from home. This will allow us to preserve our limited mask supply for patient care. If you do not have a mask we will furnish you with one.
VISIT PROCEEDURE
The first difference you will notice is that we are limiting the number of people in the office to comply with social distancing guidelines. When you arrive at the office please do not come in. Instead text the front desk from your vehicle at one of the following numbers depending on which location you are visiting and let them know that you are here and the patient's name.
The phone numbers to text are:
Albany – (518) 288-6052
Latham – (518) 288-5720
Delmar – (518) 288-6185
East Greenbush – (518) 288-6144
Clifton Park – (518) 288-6035
Once a treatment chair is available we will text you to come in. Please have only the patient and one responsible party come to the lobby. We do need a responsible party to accompany the patient into the office vestibule.
As you enter the building you will be greeted by a staff member at the door and directed to our Wellness Station. The patient's temperature will be taken with a non-contact thermometer. The responsible party will be asked some health screening questions on behalf of the patient. If all is well, the patient will be asked to use hand sanitizer and be accompanied to the treatment chair by the technician. We ask that the responsible party return to the car while treatment is being performed to keep the least number of people in the office as possible. If you are uncomfortable with this or need special accommodations, it is very important that you contact us ahead of time so that we may make other arrangements.
Once treatment is complete we will have the patient text or call you. Please come back into the reception area and you will be given a summary of the visit and make your next appointment as usual.
FINANCIAL TRANSACTIONS
If you need to make a payment, please log-in to your online account or call the finance department at (518) 489-8528. If you do not have an online account the finance department can help you set one up. This will help to further reduce the number of people physically in the office.
CHANGES IN THE OFFICE AND THE STAFF APPEARANCE
You will notice that there are some significant differences in the office in an effort to protect our patients, families, and staff. Please let patients who may be nervous or concerned by the changes know what to expect ahead of time.
The office has undergone an extensive deep cleaning and sanitizing
All staff will be wearing masks throughout the office and face shields while providing care
Plexiglass barriers are present at the front desk and in some patient treatment areas
Reception area magazines and playroom toys have been removed
Our toothbrush stations are closed
Installation of hospital grade HEPA filters at each office
Every staff member will go through a wellness screening, including having their temperature taken, before beginning work each day
Our already robust infection control procedures have been updated with Covid-19 in mind and the staff has been given additional training
The health and safety of our patients and our staff is our first priority. We want to ensure you that we are working hard to protect everyone as we finally get back to patient care. If you have any questions or concerns prior to your visit please reach out to us by telephone or email so we can help put your mind at ease.
We are looking forward to welcoming you back to the office and moving your orthodontic treatment forward. It has been too long and we have missed you.
Sincerely,
The Doctors and Staff of Albany Braces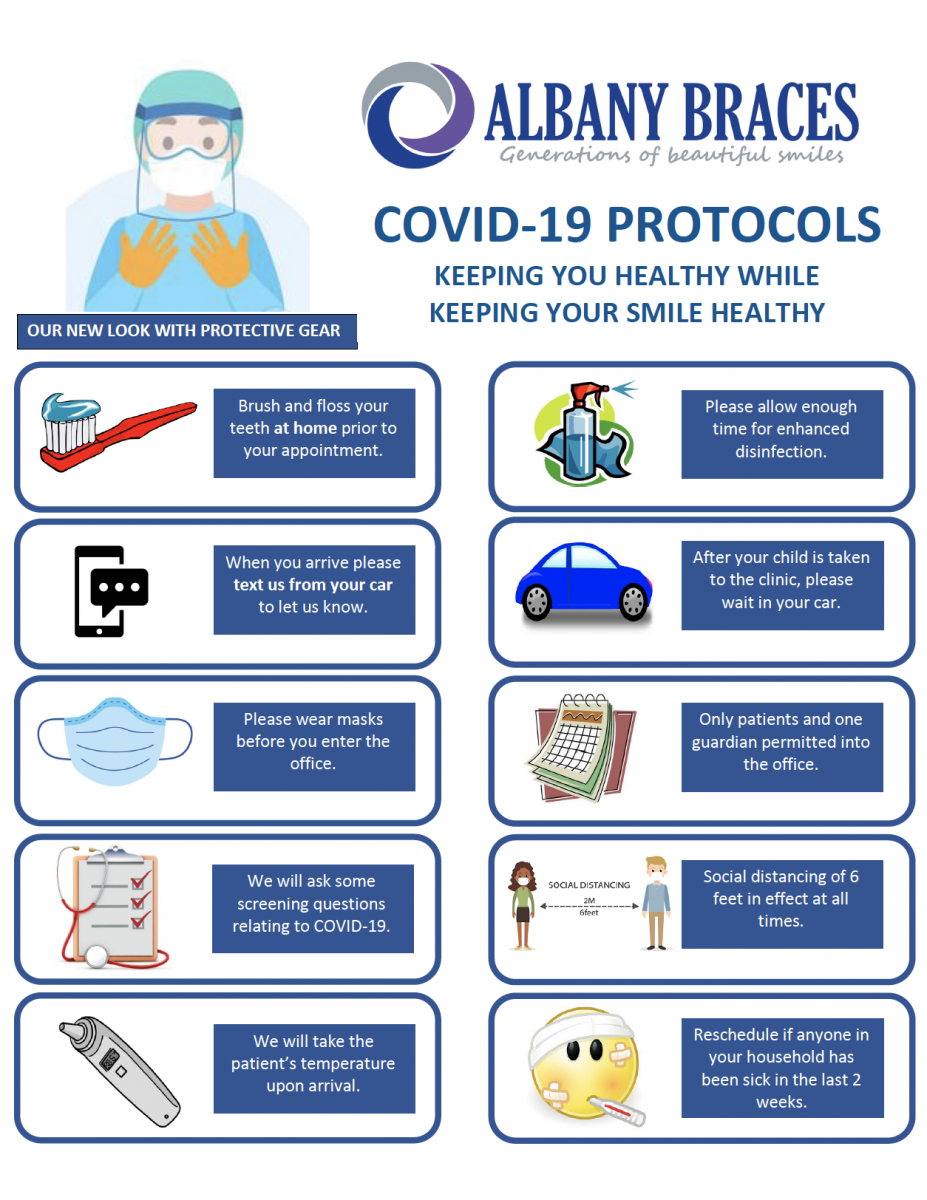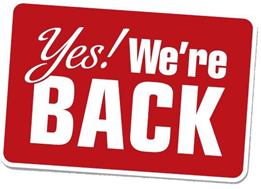 You all have waited patiently through these unprecedented times, and we are happy to say that we are now BACK OPEN! On March 16, 2020, the New York State Dental Association and the American Dental Association recommended its members to treat emergencies only due to the COVID-19 Pandemic. Due to New York State mandated orders, what started as a three-week recommendation has turned into well over ten weeks. Albany Braces complied with all requests in an effort to encourage social distancing, but more importantly, to divert needed Personal Protective Equipment (PPE) to our local hospitals and first responders. Although the initial crisis has waned, we are still committed to stopping the spread. Using recommendations from the American Dental Association, American Association of Orthodontists, the U.S. Centers for Disease Control and Prevention and the Occupational Safety and Health Administration, our office has changed many procedures to help keep our patients and staff members safe. We will be reaching out to all of you shortly to let you know of these changes.
How do I get an appointment?
Our office will contact you in the coming weeks to schedule your appointment. Every one of you is important to us, but we have many patients to contact and our staff will be working through the list methodically. Please wait for us to call you to schedule.
The health and safety of our patients and our staff will always be our first priority. We want to thank you, our patients, our community, our first responders, our essential workers, and our front-line workers for all playing your roles in helping to "flatten the curve." We have all come together during this historic time to stand united in fighting this disease. Thank you all, and Welcome Back!
The Doctors and Staff at Albany Braces
ALBANY BRACES UPDATE ON COVID-19 as of 5/7/20
In accordance with the PAUSE Executive Order set by NYS, Albany Braces remains open to treat emergencies only. Since guidelines and reopening restrictions continue to change, please visit our website and Facebook page for updates. We are working diligently with local and state advisors to implement the highest level of care possible. While we prepare for our reopening, we will always keep the health and safety of our Patients and Employees our first priority. Please stay tuned for important information regarding several ways we plan on changing our practice protocol in the coming weeks.
As always, please call our office at 518-489-8377 if you have any questions or need to schedule an emergency appointment. A doctor is on call throughout this situation and will respond promptly. Questions and pictures can also be sent to albanybraces@albanybraces.com and we will respond by the next day. Please see the tutorial video on our website on how to take the most effective pictures. During these challenging times, we would like to thank all of you for your patience and understanding. We appreciate your support, and we look forward to welcoming you back to the office soon.
Keep Smiling,
The Doctors and Staff at Albany Braces
Important Message About Insurance Coverage During COVID-19
Posted on 4/20/2020
Dear Patients and Families,
We wanted to reach out proactively and remind our patients and their families that your orthodontic insurance coverage is not typically paid to us in a lump sum but over the lifetime of treatment. If during this difficult time you have a lapse in coverage, it may impact the benefit that is paid to us. We ask that you keep us updated of any changes. Any estimated benefits unable to be collected due to a lack of coverage will need to be transferred to the responsible party. We understand that your insurance benefit serves to lower your out of pocket cost. We will be happy to help you set up any payment arrangements to help.
Please contact us with any changes in your coverage or with specific questions by emailing us at insurance@albanybraces.com.
Please continue to check our website at www.albanybraces.com for updates. Thank you for your continued patience and cooperation.
Stay safe!
Doctors & Staff at Albany Braces, P.C.
Albany Braces Covid-19 update as of 3/27/2020
This is an unprecedented time in our country's history. The Covid-19 pandemic is having an impact on so many facets of our lives including your and your loved one's orthodontic care. As we continue to navigate through many unique and evolving challenges we want you to know that Albany Braces is here for you! Unfortunately, current American Dental Association guidelines require us to limit care to emergency treatment only. As always, we are here for you 24/7. Please check our website for more details or call our office at 518-489-8377 for further instructions. We will contact you once we know we will be allowed to resume normal operations and continue your treatment. In the interim, we are evaluating various tele-dentistry platforms to allow us to communicate with you remotely if the need arises. If we do not have your email, now is the time to provide us with that information at albanybraces@albanybraces.com. We hope you are healthy and safe. Thank you for being an Albany Braces patient and the trust you place in us every day.
The Doctors and Staff at Albany Braces
To our Valued Patients and Local Community:
As you are aware Coronavirus (COVID-19) has been spreading around the globe and is currently increasing in our community. We are committed to do our part to mitigate the spread and want you to know we are here for our patients throughout this unprecedented and evolving situation.
As of now, the American Dental Association recommends dentists nationwide postpone elective procedures and concentrate only on emergency dental care: EFFECTIVE MARCH 17, 2020 ALL OFFICES WILL BE CLOSED UNTIL NOTIFIED OTHERWISE. This webpage is specifically dedicated to keeping you informed of our office procedures and practices during the COVID-19 outbreak.
Please keep in mind that the current Center of Disease Control information still suggests that this illness is generally mild except in vulnerable populations. Older people and people of all ages with underlying health conditions such as lung disease, heart disease, diabetes and the immunocompromised are at the greatest risk. We encourage you to learn more about the virus and stay up to date with current Center of Disease Control Recommendations at https://www.cdc.gov and New York State https://www.health.ny.gov/.
If you have or experience any of the following please contact your health care professional to get advice before contacting our office:
• You are having/have recently had ANY symptoms of fever, cough or shortness of breath
• You have or may have come in contact with someone with Coronavirus (COVID-19)
• You are under quarantine or have been asked to voluntarily self-quarantine
FURTHER GUIDANCE:
WHAT CONSTITUTES AN ORTHODONTIC EMERGENCY?
In general, an orthodontic emergency is something that is causing pain and/or discomfort that needs prompt attention. Most breakage associated with fixed orthodontic appliances is considered a repair and can be addressed at your routine appointment. Further information can be found on our website: CLICK ON THE LINK on our home page "Wearing Braces" then go to "At Home Care Instructions".
When in doubt, a doctor is always on call to address your questions and concerns.
EMERGENCY APPOINTMENT PROTOCOLS:
All emergency appointments will be seen at our Albany location: 1004 Western Ave, Albany, NY 12203. Please call 518-489-8377 between 8AM and 4PM Monday -Friday. You can leave a message on the answering machine and someone will call you back as soon as possible to schedule your appointment. After hour emergency instructions are also available at this same number.
All efforts will be made to enforce CDC social distancing recommendations.
RESCHEDULING YOUR CURRENT APPOINTMENT:
We will contact you to reschedule all cancelled appointments. Please do not call us. Thank you in advance for your patience.
BILLING AND OTHER FINANCIAL QUESTIONS:
The financial office will be working limited hours and will do their best during this time to address your questions and facilitate payments. You can leave a message for the finance office at 518-489-8528 or email us at financial@albanybraces.com. Someone will get back to you within 72 hours. If you have not and would like to set up automatic payments, we will be happy to assist you with this matter. You can also access your online account at any time at www.albanybraces.com. If you are having difficulty logging in, please contact us.
Additional FAQs
If I am not seen for my regular appointment will it hurt my teeth or extend my treatment time?
If you are having any issues with your teeth please call the office. A doctor can call you back to troubleshoot any clinical problems you may be having. Please let us know if you are having discomfort, as a doctor is always available to make you comfortable if needed.
Make sure you are keeping your teeth and braces clean. Good hygiene reduces the risk of cavities and gum issues that can be associated with plaque being on the teeth for extended periods of time. Poor hygiene is the biggest risk to your teeth and gums even if you are seen at a more traditional visit schedule.
Unfortunately this uncontrollable office closure can lead to treatment times being extended slightly. We schedule our normal visit increment to optimize tooth movement and complete treatment as quickly as possible. If you are not seen for your regular appointment we cannot make adjustments to your appliances and keep you progressing. We are hopeful that this will be a short inconvenience for our patients but we just do not know how long the New York State mandated closure will continue.
What should I do if I was scheduled to get my braces off?
We feel terrible that your big day was finally scheduled and now it's delayed. It can be disappointing and frustrating to not be getting your braces off as scheduled, however appliance removal is not considered an emergency and isn't possible given our current guidelines. Keep your teeth clean and do your very best to avoid appliance breakage so that everything stays lined up and ready for removal once we reopen for routine care.
Should I keep wearing my rubber bands?
Yes, continue wearing your elastics as instructed. This will allow us to continue to make progress on your bite correction. Keep an eye on the bite. If you feel that the bite is overcorrecting, or that things just don't look or feel right, contact us by email for guidance. Send us pictures of the left, center, and right sides of the bite to help the doctor evaluate the fit of the teeth. You can send the pictures to albanybraces@albanybraces.com and we will get back to you by the next day.
What should I do if I run out of rubber bands?
Call the office if you are low or out of elastics. Leave a message on the machine and we will mail you some to keep you going until your next appointment.
Should I continue turning the patient's expanders?
Stop turning the expanders after the completion of the turning schedule given to you at the last appointment. We will evaluate the space needs and bite at your next office visit and resume turning again at that time if additional space is needed.
What do I do if I have spacers in place?
If you are comfortable removing them at home you can. Make sure that you remove all of them. If you are having trouble removing them yourself or are uncertain about removing them call the office and leave a message. We will contact you to arrange to have the doctor remove them for you.
Invisalign – What should I do if I've completed wearing the last aligner I have?
Continue using the aligner for 14 hours per day. This will retain the teeth in their current position extend the longevity of the aligner. If the last aligner breaks go back to the previous aligner in the sequence and wear that one for 14 hours per day.
What should I do if my glued in retainer wire is loose or if I lose my removable retainer?
Unfortunately this will have to wait to be repaired or replaced at this time. We are only seeing patients on an emergency basis who are in discomfort to comply with New York State guidelines for dental treatment. Please leave a message on the office answering machine and we will call to schedule once we are cleared to see patients for routine care once again.
At this difficult time please know we are here for you and we will all get through this together. We are never stronger as a community than at these times. Please check back often as the information on this page will change as circumstances dictate.
Thank you for your patience and understanding.
Stay Healthy!
The Doctors and Staff at Albany Braces